CarLock Tip #2 – Monitor Your Teenager
Teen Driving features enable you to keep an eye on your teenager's driving habits, reducing the probability of accidents when they are driving your vehicle. This superb functionality does not just stop at teenage children. It is also a perfect way to monitor how staff are driving your work vehicles. Or in fact, any situation where you need to ensure the driver is navigating responsibly.
Dashboard
Dashboard screen offers a quick review of driving behaviour. You can easily compare the current average driving score to the average score of the previous month.
Driving score is calculated based on the driving behaviour of your teenager. This consists of:
Speeding
Braking
Acceleration
Cornering
All harsh driving behaviour is detected and reported to the parent with push notifications. Concerned parents can view all harsh driving events in the Log:
Setting the Speed Limit
You can easily set the speed limit and get notified when the vehicle exceeds the allowed speed limit.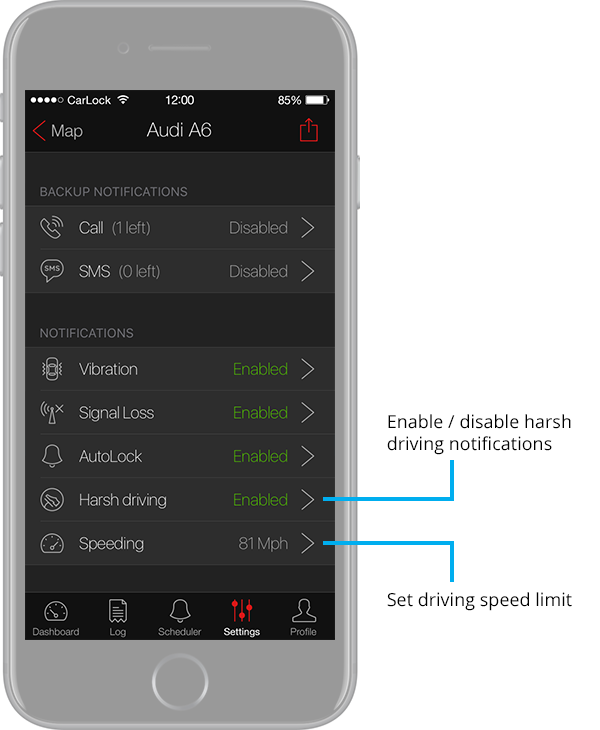 Open the Settings tab, tap on Speeding and set the speed limit.
Notifications
CarLock teen driving functionality will notify you in the case of:
Driving over the speed limit
Unusually fast acceleration
Hard and sudden braking
Sharp turns and cornering
Lend your car to your teenager with complete peace of mind and Keep your child safer with CarLock.
If you have any questions about CarLock teen driving features, let us know on support@carlock.co.
We will be happy to help.
The CarLock Team