How CarLock Can Save Your Car
It was just an ordinary day when CarLock's CEO went about his routine errands. After finishing up, he returned to where he had parked his car, only to find it missing. The CEO was left with a mix of emotions, ranging from frustration at the inconvenience of losing his car to a deep sense of sadness and powerlessness. Determined to prevent others from experiencing the same ordeal, he created CarLock.
The CEO's experience of losing his car may have been distressing, but it led to the creation of a product that could make a real difference in people's lives. Thanks to his determination and drive, CarLock has become a trusted solution for car owners who want to safeguard their vehicles and enjoy peace of mind while on the road.
This photo showcases the latest feedback from our satisfied customers, highlighting the key factors that influenced their decision to purchase CarLock. With CarLock, you can have peace of mind knowing that your vehicle is always protected and secure.
CarLock device sends alerts to a person's phone if someone attempts to move or break into their car, ensuring the safety of their vehicle. How useful can that be, was experienced by our customer Mark. He was watching TV early in the morning when he suddenly received a CarLock alert that his device had been disconnected from his vehicle. He literally jumped out of the house and was able to scare off the thieves just minutes before the theft could have happened.
Our security system's value is well-demonstrated by the numerous satisfied CarLock customers who have left positive reviews on Amazon.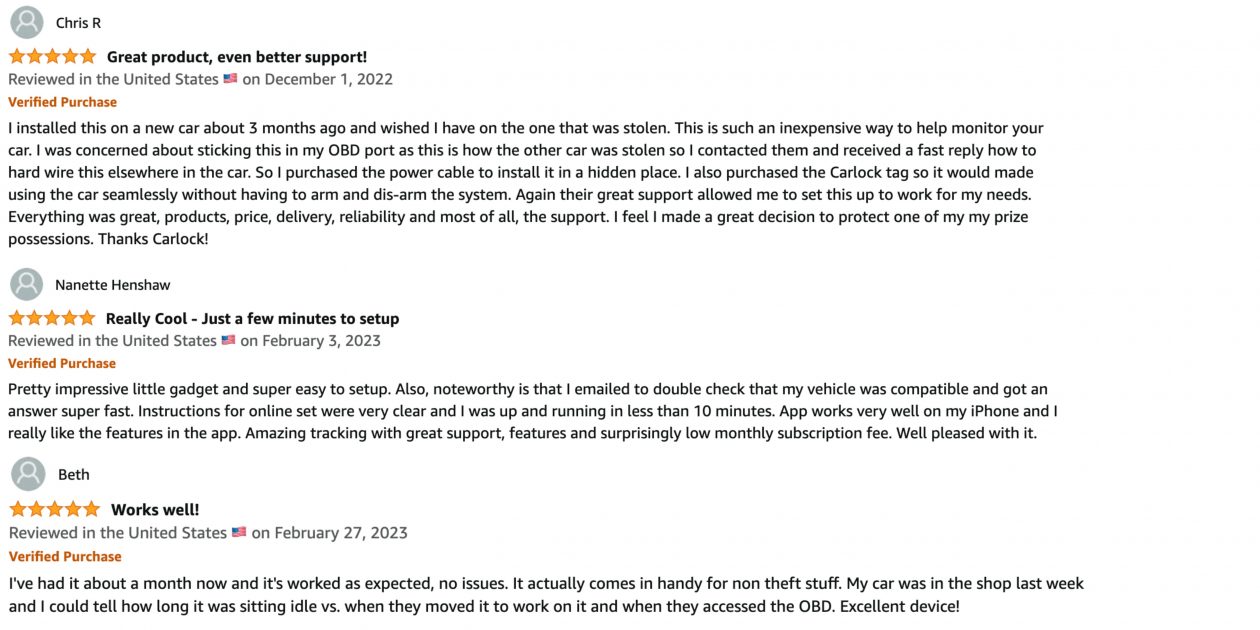 Do not hesitate to install your CarLock device, so you can have peace of mind, every day.
If you are experiencing issues with installing the CarLock device to your car, contact us at support@carlock.co, we will be glad to help you out.