Introducing the CarLock Vibration Sensor
We're thrilled to announce the release of the revolutionary CarLock Vibration sensor!
An innovative safety device that adds an additional layer of security by bringing an extra level of vibration notifications to your existing CarLock Device!
With its dedicated optimal sensitivity, the CarLock vibration sensor quickly responds to vibration and triggers an immediate alert to your CarLock App. Simply place the sensor in a location you would like to monitor close enough to the CarLock device in your car and get notified immediately if any vibration was detected.
Extend your CarLock's powerful security features and enjoy complete peace of mind with this revolutionary and affordable anti-theft device.
Audible Vibration Alarms are simply not enough. They rely on other people to care about your belongings. The ones that do take notice simply don't want to get involved. CarLock Vibration Sensor alerts the person straight who cares most about your belongings! You!
CarLock Vibration Sensor monitors your vehicle or your belongings and alerts you of suspicious vibration through your CarLock app on your Android or iOS device even if you are halfway around the world!
Pairing and installation are simple and quick! To learn more about the process of pairing the Vibration Sensor with your CarLock app, check out this resource.
CarLock Vibration Sensor will trigger a notification to your phone from a distance of up to 20 ft from your CarLock Device via Bluetooth. This extends CarLock's vibration detection security functionality to the area beyond just your car!
Get your Vibration Sensor HERE.
Protect Your Car and Beyond
Install The Vibration Sensor to your Car Door
Get notified as soon as the car door is opened or closed!
Install The Vibration Sensor to your Trunk
No one will be able to steal anything from your trunk without you being alerted!
Protect items in your glove compartment
If you keep anything valuable in the glove compartment, place the vibration sensor in it and you will be notified immediately if someone opens it.
Protect Your Belongings Next To The Car
Receive a notification when any of your valuables have been moved without your knowledge!
Optimal protection for safeguarding your valuables has been made easier with our new CarLock vibration sensor. It simply fits on any object and helps secure valuables even outside your vehicle!
Make sure the object is in Bluetooth range (20ft) next to your car with an installed CarLock device and enjoy the peace of mind of knowing in real-time that your belongings are where you left them.
Besides your vehicle, you can now protect:
Mechanical Tools
Are you an owner of expensive mechanical tools that you use on a daily basis? Thieves often target these. You'd surely rather protect it than lose the value of more than $1000 in just a few minutes. With the CarLock vibration sensor, you can now invest in affordable and easy-to-use protection for your tools.
Your Bike, E-Bike, Or Bike Rack
CarLock Vibration sensor is a perfect security solution for your bikes, e-bikes, or bike racks! Bikes and E-bikes are very attractive and susceptible to theft due to their high price. Especially if more of them are parked together in the same place like a bike rack. If you're a proud owner of a high price bike protecting it from theft is one of the main things you should have in mind. Investing in high-security locks is often not the best solution, as thieves have become way too smart and ingenious and can cut through them easily. CarLock vibration sensor will allow you to quickly respond as you will be notified in case anyone tampers with your bike or bike rack!
Protect The Belongings In Your Garage By Installing The Sensor On Your Garage Doors
Get alerted as soon as someone tries to enter your garage by breaking in through the garage doors!
You can also place the vibration sensor on any object in your garage to make sure no one is moving it anymore without you knowing.
Sports Equipment
Do you practice any sport that requires special equipment, such as golf, SUP, or Camping equipment? This is often quite an investment and should be treated with special care. Besides storing it in a safe place, you can now even equip it with an additional layer of protection the CarLock vibration sensor offers. You know what they say, better safe than sorry!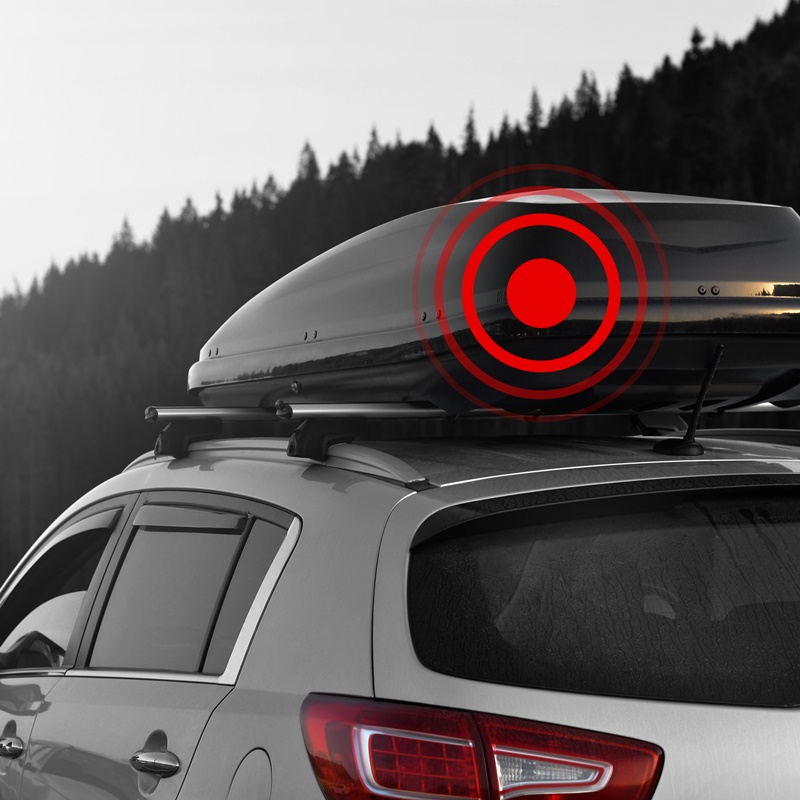 Electronic Gadgets
Electronic gadgets such as laptops or photographic equipment have become one of the main targets of theft due to the simplicity of theft. We often leave them in visible places and as they're small, they can very easily be stolen. But CarLock has a solution for this! Now you can protect each of your electronic items with ease. Simply attach the vibration sensor to any of the electronic gadgets you want to protect and you'll be immediately notified in case of vibration is detected when you're not around.
Safeguard Your Luggage
You can even use the CarLock Vibration sensor to safeguard your luggage and your vehicle during car travels on public parking lots.
Get An Extra Level Of Security!
CarLock Vibration sensor is a small, portable, and versatile device that brings you an extra level of security, and peace of mind and it extends the functionality of your CarLock Device in just a few seconds.
The fully waterproof device can easily be placed on your car's door, trunk lid, or any object with the included double-sided sticker or screws. The device is fully waterproof and offers a 1– year battery life with simple replacement available after
This means you can even place it anywhere outside without fear it would stop working! And with its replaceable battery, you get 365 days of stress-free protection.
CarLock vibration sensor offers state-of-the-art vibration detection sensors and ensures smooth integration and simple pairing with your existing CarLock system.
Don't miss this opportunity to easily protect your belongings.
The CarLock Vibration sensor is now available to purchase on Amazon. Get your Vibration Sensor HERE. (Only available in UK at the moment, tba in USA soon)
You're welcome to share your CarLock Vibration Sensor experience by emailing us at info@carlock.co. Your feedback is always very much appreciated!
The CarLock Team